Price
Passage bill (includes Ninja Show viewing, Karakuri Mansion, and Ninja Athletic)
Age
Price
adult
(Junior high school student and above)
¥ 1,800
Elementary school student
¥ 1,300
infant
(3 years old and over)
1,000 yen
*Does not include paid attractions.
* [Ninja Show] has an admission limit for each time.
On the day of the event, you can choose your desired performance times on a first-come, first-served basis.
Advance reservations are not possible.
Click here for "Advance Tickets"
Paid attraction
Attraction name
subject
Price
shuriken dojo
Once
500 yen
*Purchase tickets at the ticket vending machine
Ninjutsu Experience Dojo
Children
(3 years old and over)
1,000 yen
*There is a limit to the number of people each time.
up to 20 people
Advance reservation not possible
ninja costume
rental
1 day use
(Common for adults and children)
500 yen
Learn!
Ninja stamp rally
one sheet
(original
with key holder)
500 yen
*Restaurant "Setsugetsu Fuka", tea house "Fujimi Saryo", and gift shop "Shinoshita" can be used free of charge.
Calendar
The business hours of the restaurant "Setsugetsu Fuuka" and the tea restaurant "Fujimi Saryo" in November are as follows.
Restaurant "Setsugetsu Fuuka": Open 12:00-14:00 only on Saturdays, Sundays, and holidays (closed on weekdays)
Teahouse "Fujimi Saryo": Closed all day.
Ninja Show/Ninjutsu Experience
Rates and reservations for groups (15 people or more)
For group reservations, please apply at "Fujikyu Concierge", a total proposal site for group use of Fujikyu Group facilities.
※ Please contact us if you are booking groups of 15 or more.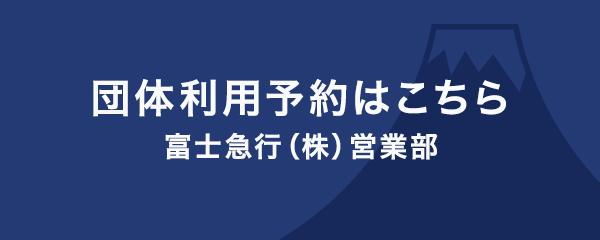 Group fee
■ General groups (general, university, vocational school, children's association, after-school facilities, etc.)
Adult
(junior high school students and older)
child
(3 years old to elementary school)
bill of exchange
1,600 yen
900 yen
* Customers other than school groups.



■ School groups (only kindergartens, nursery schools, elementary and junior high schools, high school excursions, school trips, and field trips)
| | Middle and high school students | Elementary school student | Kindergarten/Nursery |
| --- | --- | --- | --- |
| bill of exchange | ¥ 1,300 | 900 yen | 800 yen |
School groups Note 1) The same amount as students, children, and kindergarteners for supervising teachers.
Note 2) Accompanying guardian: 1,600 yen

Meals for groups
You can choose from this menu.